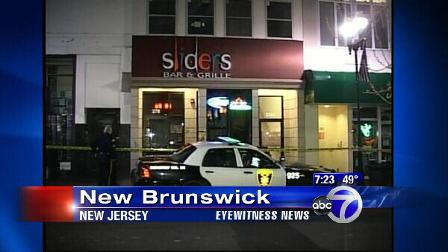 ABC News
reports a double shooting at Sliders Bar & Grill in New Brunswick, NJ. I'm only posting this because I've been here and the food is really good. I know New Brunswick isn't the best city but this shit happened on a busy street where you wouldn't think a crime of this magnitude would happen. Excerpt from the report after the jump.
Excerpt:
Two people were shot inside a popular bar in downtown New Brunswick.
Eyewitness News is told the victims were hit inside the Sliders Bar and Grill on Georges Avenue just before midnight.
Police say they were both shot in the legs and rushed to a nearby hospital with non life threatening injuries.
The gunman fled the scene and no arrests were immediately made.
The bar, located in downtown New Brunswick, is blocks from Rutgers University.